Ed was born in England and grew up in The Isles Of Scilly, Cornwall. He took art classes at college, while studying for his electronics degree, but it was a life class 30 years later at The Round Top Center for the Arts that rekindled a serious interest in drawing and sculpture.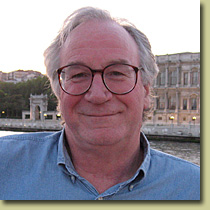 Two years later, inspired by a book by Dick Onians, he started carving the figure in wood. The evening classes at Round Top and The River Arts Centre, in Damariscotta, Maine, provided a welcome change from his busy yacht charter business.
He soon graduated to stone and clay. Several of his sculptures have been cast in bronze, either as limited editions or one-off commissions. He is primarily interested in sculpting the figure and currrently works with a group of like minded sculptors under The River Arts program.
Ed is John Hamilton's son and Jane's brother. He lives in Maine, with his wife, Barbara.